This service is currently not our main focus. We can entertain building in 2024 but not 2023. While we have provided this in the past, we are currently finding our greatest success in major home renovation/remodeling projects. Most of the inquiries that we receive for custom home building simply are taking too much time on the proposal process, have too many variables with materials, and take a lot longer for the project to complete. So we are sharing this service to demonstrate our capabilities from past projects, while focusing on areas that seem to be better suited for the near future. Thank you for your understanding.
Just the way you expected it
From laying the foundation to the finishing details, we will ensure that you are comfortable and confident with every stage of the process and that your new home turns out just the way you expected it to look and feel. At JK Construction, we understand that building a home can be daunting, with so much to consider and decide on.
Let us help to simplify the process for you with the experience we have gathered over the last 15+ years so that you don't just gain a new home at the end but enjoy the process along the way. That's what we're here for.
This picture features a classy, curbside view of a custom home build we completed with a cozy front porch area surrounded by dry-stacked stone, stucco, and a welcoming alder entry door. The porch is accented with custom-milled posts and beams that create two entry columns made of wood and stone. The decorative wooden accents in the gables finish off this home's curb appeal.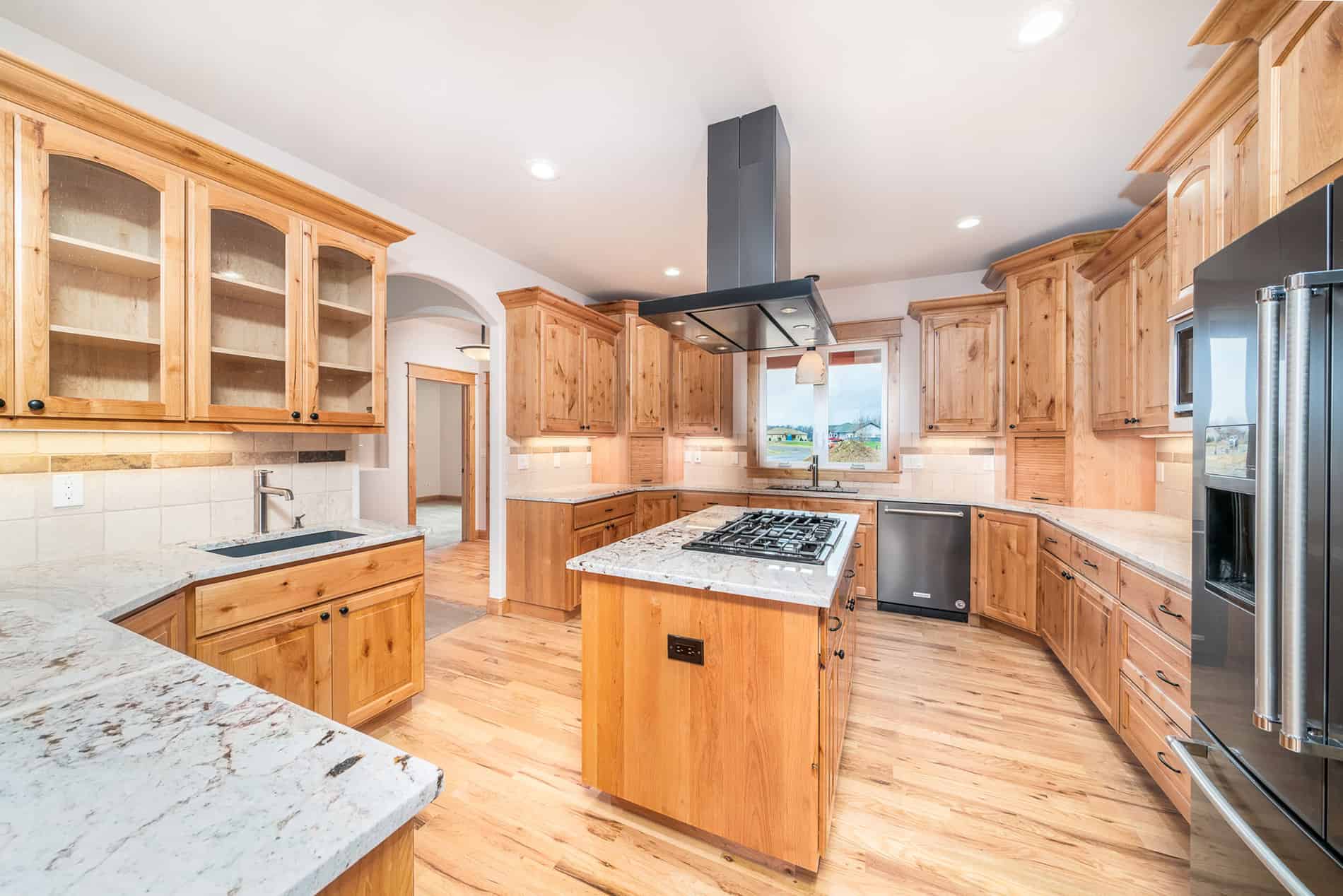 And this section shows black stainless kitchen appliances with natural, alder wood custom cabinetry that contrast nicely with white quartz countertops. The center of the kitchen showcases the island, range, and black stainless hood vent. The tile backsplash and under cabinet lighting add a few finishing custom touches.
In these pictures, you will find natural alder wooden front door with plenty of light coming in from either side to enjoy the inviting living room space with an entertainment cabinet, built-in display cabinet, accent ceiling beam work, and dry-stacked stone fireplace with wooden mantle.
In this second picture, you will notice the screened-in porch with a wood-burning stove to enjoy those chilly Colorado days with a warm outdoor fire. With the added touch of the tongue and groove wood ceiling, this outdoor space is quite inviting. Then during the warm summer nights, enjoy the weather without being bothered by mosquitos and other pesky bugs.
In the last picture you will notice the high-quality vinyl windows cased in alder wood trim to match the custom cabinetry and wall cap. This guest bathroom also features a heat lamp above the shower along with a beautiful custom tiled surround and glass shower door.
Feedback from Our Clients
"We found they were honest as well as skilled in their work. After years of construction management experience, we recognize that honesty and commitment to finishing a job correctly are rare among contractors. If all contractors in every industry worked like this, our nation would be far advanced over the current situation."
- Mike and Bette S., Capital City, CO
"Our homes would not have been great projects without your significant expertise and leadership. As we finish up, your square, level, plumb, flat framing, and trim continue to show their mark. We all are grateful for what you helped create. And, I especially thank you for your attention to detail, good ideas, energy and skill."
- Lee W., Montrose, CO
Contact JK Construction so that we can schedule an appointment to help make your Home Building dreams come true.  
Contact JK Construction so that we can schedule an appointment to help make your Home Building dreams come true.